By Haley Bartlett
LONDON (AP)— The mayor of London announced that the city may begin to remove more imperial statues as the George Floyd protests progress around the world eliciting change.
The death of Floyd, a Minneapolis resident who was killed by former police officers after being detained for an alleged counterfeit twenty dollar bill on May 25 has sparked a series of protests led primarily by Black Lives Matter.
The protests started in Minneapolis and quickly spread around the nation before going global as individuals continue to fight against racism and police brutality.
London Mayor Sadiq Khan stated June 9 that they would be reviewing all types of dedications from murals to statues over historical figures and their relation to racist behavior after protesters knocked over a monument dedicated to a slave trader:
"It is an uncomfortable truth that our nation and city owes a large part of its wealth to its role in the slave trade and while this is reflected in our public realm, the contribution of many of our communities to life in our capital has been willfully ignored," Khan said.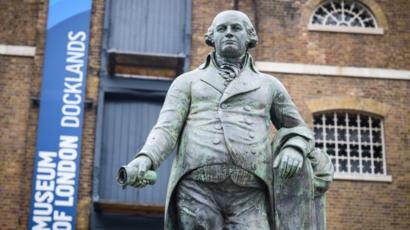 Commissioners have already begun the process by announcing a monument commemorating slave trader Robert Mulligan would be removed soon.
Many institutions are following suit in reevaluating the nature of statues around London to ensure they characterize the diversity of their people. Oxford University has started petitioning to tear down the statue of Cecil Rhodes, a Victorian imperialist in southern Africa.
 On Tuesday, hundreds of supporters of the Rhodes Must Fall group gathered and chanted "Take it down," before holding a vigil in honor of Floyd.