By Madison Gilliam
CHATTANOOGA, TENN (mocsnews.com) – UTC officials have released a report that lists all of the COVID-19 precautionary changes that faculty and students should be aware of before beginning the fall semester.
The task force was created by Chancellor Steven Angle who appointed Dr. Robert Dooley, the Dean of UTC's College of Business, and Dr. Richard Brown, the Executive Vice Chancellor. They created the 2020 Fall Task Force Report which gives specific details on the guidelines that the UTC community will be expected to follow.
The Task Force Report has all of the information about the upcoming fall semester guidelines as well as the contact information for the officials if you have any questions.
Upcoming freshman Hunter Owens mentions,"I know this is going to be a new experience for everyone, but I am still just as excited to be a part of the UTC family, and to start my college career…the Corona won't take that from me".
Specific rules have been set, such as a face mask requirement and increased sanitary precautions in student housing, classrooms, and dining areas.
Student life and activities will also change. There will be no visitors allowed in any student housing building as well as specifically designated dining areas. UTC officials are still deciding if intramural and club sports will be allowed.
One of the biggest changes has been the cancellation of the already extended May graduation ceremonies. UTC officials recently came to the decision after the sudden rise of COVID-19 cases in Hamilton County. They have decided that a virtual ceremony is the safest way to honor our spring graduates.
Recent UTC graduate, Ashley Micillo, was upset that she couldn't experience a traditional graduation commencement, but says that she understands why it is a priority.
The plans and procedures could change depending on the numbers of COVID-19 cases in the fall. Chancellor Angle explained, "We will continue to adopt measures to protect the health and safety of the campus community that align with guidance from the CDC and the Tennessee and Chattanooga-Hamilton County Departments of Health. If circumstances make it necessary to revisit our processes or approaches, we will do so, with the health and safety of our community being the top priority".
One major difference that separates this semester from others will be the altered schedule. There will be no fall break and students will have class on Labor Day. The semester will end face-to-face classes before Thanksgiving and students will take their finals online during the scheduled final exam period in December. Chancellor Angle says that UTC is following all CDC and American College Health Guidelines in their decision to adjust the academic schedule and campus procedures.
UTC rising junior, Alleah Fancher says, "I am sad to think of how this Coronavirus will change my college experience, but I do feel a lot safer knowing that UTC has a plan and are taking every precaution to keep us safe".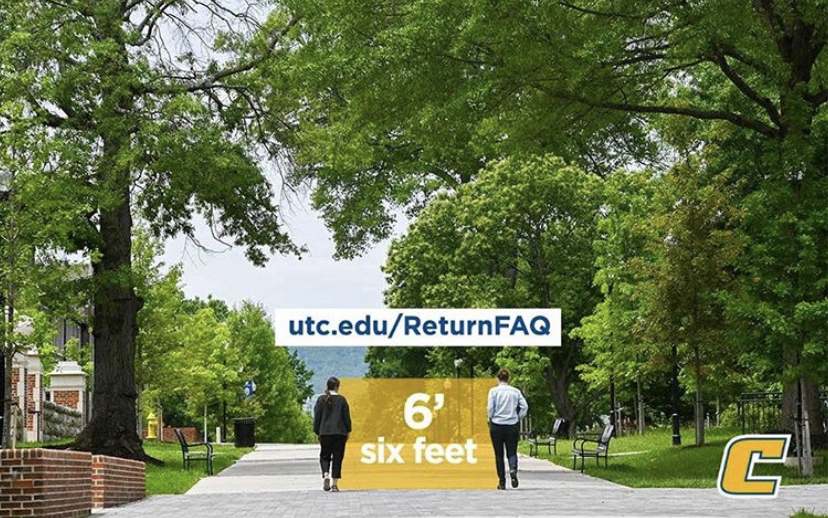 Overall, Chancellor Angle wants the UTC community to know that their health and safety is the number one priority. He explained this on the university's YouTube channel, "So hang in there, we will help you, we can all do this, and we will get you through your education".
For additional information please visit www.utc.edu for regularly updated information on COVID-19 and the current Task Force plans.