By: Allison Pursell
CHATTANOOGA, TN (mocsnews.com)- Food insecurity is an issue that has long plagued the college student population, and unfortunately, the pandemic has only made the situation worse. According to a survey conducted by the Hope Center for College, Community, and Justice, over 38% of college students were experiencing food insecurity in the spring of 2021.
Empty cabinet by Evan Kopf, Flickr
For many students, the high cost of tuition and living expenses leaves little room for purchasing groceries, which often results in them going hungry.
Peyton Fry, a senior at UTC said that a good chunk of her money goes towards getting groceries.
"With inflation I usually spend around $75 a week for a sustainable meal, $100 if i'm getting produce."
Farmers market by Lee Seabrook, 2012, https://asapconnections.org/wp-content/uploads/RAD_Ten-Mile-2-scaled.jpg
This struggle is not just a matter of inconvenience, but it also has a serious impact on the physical and mental well-being, academic performance, and long-term financial stability of college students.
The issue of food insecurity has been acknowledged by many universities and colleges across the country. Initiatives such as campus food banks, free meal programs, and SNAP outreach programs have been established to address the needs of food-insecure students. But more needs to be done.
Colleges must work to reduce the stigma surrounding food insecurity and provide resources to students in need. Administrators can work with local grocery stores and restaurants to negotiate student discounts or provide coupons for food purchases. Furthermore, access to healthy and nutritious food options should be prioritized to ensure students have the fuel needed to succeed.
It's also crucial for policymakers to understand the scope of the problem and implement long-term solutions. State and federal legislators must allocate funding towards student aid programs, including those dedicated to fighting food insecurity. Additionally, legislation like the College Student Hunger Act of 2019 can help alleviate the burden of hunger on college campuses by allowing students to receive SNAP benefits and establishing grants for food pantries on campuses.
UTC shows help for food insecurity through Scrappy's Cupboard, a program that provides a variety of food, clothing, household items and more. It is available to all UTC faculty and students and can be used in an anonymous way. The cupboard is coordinated by Student Outreach and Support (SOS) and ran by local volunteers from UTC's community.
"The Cupboard aims to relieve these insecurities, which enables UTC community members to better focus on their wellbeing and education," SOS said on the Scrappy's Cupboard website.
Derek Hoopes, a junior at UTC said that he has participated in obtaining goods from Scrappy's Cupboard.
"It's a pretty good size. There's a large variety of food, hygiene, and cleaning supplies."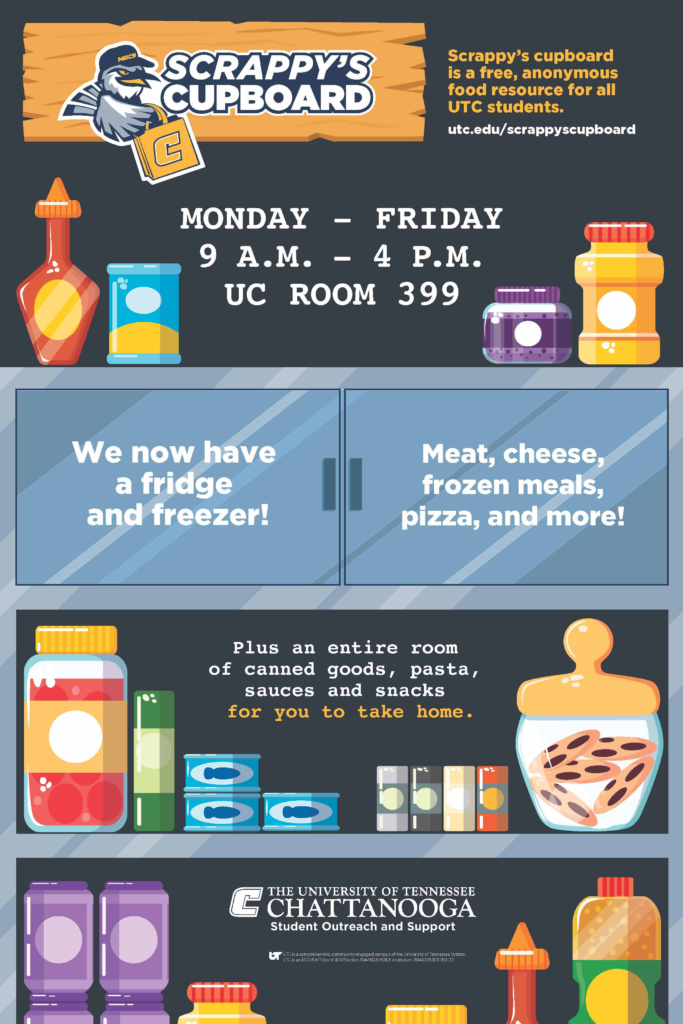 Scrappy's Cupboard poster 22-23 https://www.utc.edu/media/109536
In asking students what they think could be improved upon, Peyton Fry said,
"I think it would be better if they had something more open on campus since Scrappy's Cupboard isn't super noticeable or in-the-open."
College students deserve the opportunity to thrive without the burden of hunger. Scrappy's Cupboard is a good step for UTC, but there's so much more we can do to improve food insecurity. Let's work towards providing them with the support and resources they need to succeed.